Ooh, those words stir up a feeling of such excitement and you immediately start conjuring up images of sandy beaches, pool ceremonies and historic venues. But hold your horses. A destination wedding needs a lot more planning and careful consideration than getting married in your hometown. You will be going to a completely new country, maybe one that you've never been to before, with a new culture, for one of the most important days of your life.
So when planning a destination wedding, here are some things you should keep in mind.
You may choose to plan and execute your wedding on your own when the venue is local, but with a destination wedding, you'll feel much more comfortable with a wedding planner on board. That way you don't have to worry about figuring out local transport or hotels for your guests, tie-ups with good vendors, any local processes or red tape, or anything else that will run you ragged and leave you unable to enjoy your special day.
Take every little thing into consideration. Ease of travelling locally, food preferences, availability of whatever you need for the wedding rituals, the logistics of flying in your family members and putting them up in hotels, the budget, whether or not getting vendors or extra help will be expensive, photography and videography; every little thing will have to be planned.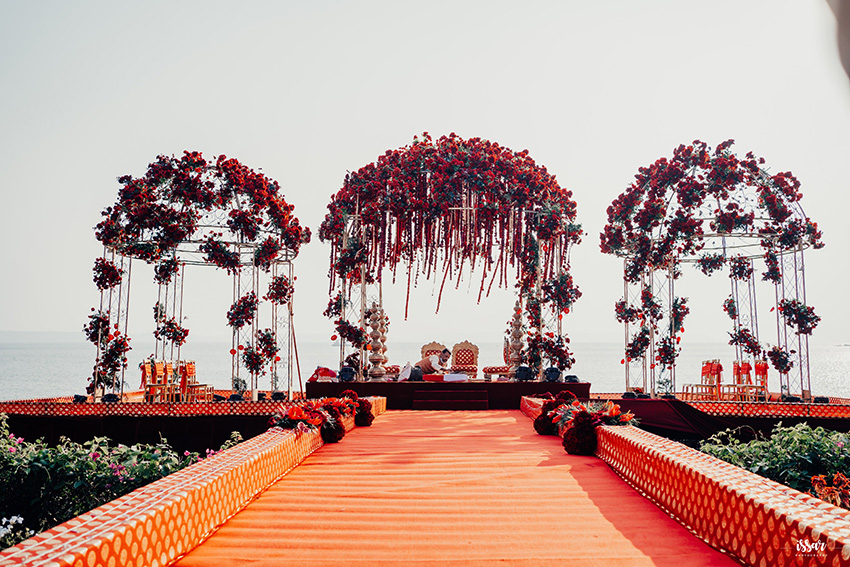 3. Consider unexpected expenses when planning your destination wedding
When it comes to unexpected expenses, destination weddings can become a money-suck. So make sure you account for every possible expense. This would include travel costs, any gratuities or tips, any shopping or entertainment expenses and so on.
4. Safety
While it's important to know whether a particular country is safe or not, it's equally important to know whether your friends and family will feel safe there. While a country may be perfectly safe, if the perception is different, your guests will be reluctant to attend.
5. Be considerate of the guests attending your wedding
What does that actually mean? They are your guests. You will of course take care of them as the ideal host. But with a destination wedding, things are a little different. A straight-forward 'save-the-date' will not be enough. You will need to go overboard! Beyond the basics of your wedding (where, when, timings, menu choices), let people know how to get the best out of their time in the country. Have a detailed FAQs section all about transportation, activities, local language phrases and practical health care tips. Look into local accommodation options at different price points and provide links to them. The more information you give, the better experience your guests will have.
6. Budget for destination wedding
It goes without saying that you will have to find a location that fits your budget. But you will also have to consider your guests. What are you ok paying for and what will you need your guests to contribute for? Be very clear on that.
Now if you look at the list, you'll see that all the earlier points tie in with the last one: the budget. And this is usually the million-dollar question, isn't it?
What sort of a budget should you set aside for a destination wedding? And what should you even take into consideration?
Location, time of year, size of the wedding, decor, clothes—almost everything influences your destination wedding cost. Destination weddings come with expenses that aren't otherwise involved with the planning of a traditional wedding. Travel expenses—like flights and rental cars—along with lodging are the two biggest costs that couples and guests will have to fit into their budgets. So start with those and your wedding venue. These three pieces will likely make up the bulk of your budget.
So let's break your dream destination wedding down.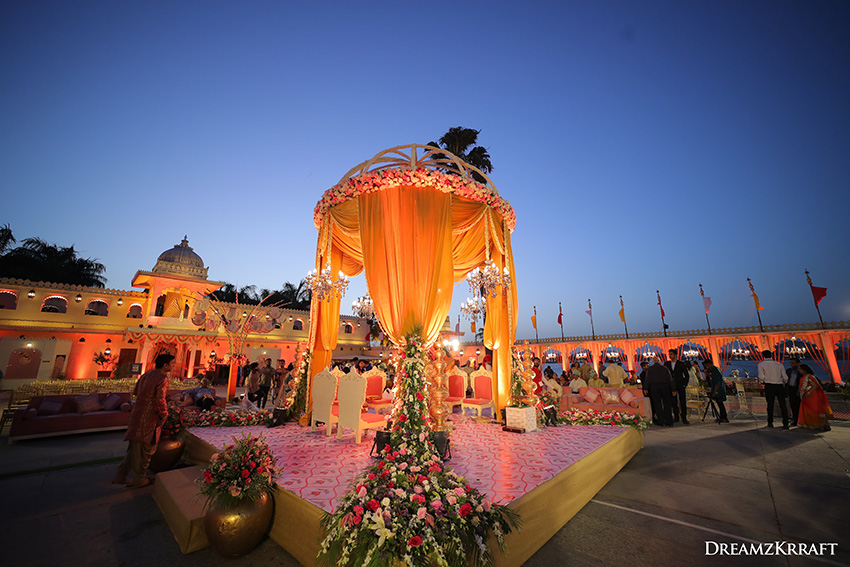 1. The very first step is to sit down, hash out the various destination options and measure their feasibility very carefully.
By this, we don't necessarily mean the obvious costs like the venue, catering and decoration. While these costs are very important, it's the seemingly hidden costs that actually build up in the end. So figure out what packages the venue is offering, what is included and what is not.
While food may be included, the decor may not. The photographer and videographer most certainly won't be. Besides that, wedding favours for the guests, the food and stay costs for the guests, the DJ.
2. Next, comes the airfare.
The airfare is usually the largest cost and a non-negotiable one. Plus, if you are taking care of the airfare for your guests, this will go up further. But here's a tip that will make this cost much more palatable. Since you'll already be at your dream destination, you won't have to spend separately on your honeymoon. So club that expenditure along with your wedding expenditure and you will have more wiggle room in your budget.
3. Then, let's look at the accommodations.
Accommodation is the next big non-negotiable expenditure on the list. And again this goes up when you add in the expense of putting up the guests. But there are a couple of ways of saving money here. Book your rooms well in advance to take advantage of discounts on bulk. It is also good to keep in mind that when booking at an all-inclusive hotel or resort, there will be special amenities and romantic touches that come included.
4. Ask for wedding packages
The great thing about a destination wedding venue is that it includes much more than just the basic venue if you're at an all-inclusive resort. Couples can expect basic inclusions like the ceremony set-up, cocktail hours, wedding flowers, and more.
5. Ask your wedding planner for vendor recommendations.
Vendors are a huge part of any wedding ceremony and depending on the number of them, they can become expensive. Start with connections and recommendations that your wedding planner can help with as those would be more cost-effective.
And finally, let's narrow down the actual venue for your destination wedding.
The best way of doing this is to choose one that has some significance to you and your partner. But if there isn't any place that matches that description, then we have some tips right here.
1. Assess the ease of getting accommodations around the venue.
You don't want to go to a strange country and have to figure out the travel options between your hotel and the venue, especially when you and your guests will have to make that trip multiple times. So choose a venue that has plentiful and cost-effective accommodations nearby.
2. Check out the infrastructure and facilities.
Make sure the facilities at the venue will work for the type of ceremony you are planning. For example, Catholic ceremonies in Mexico can only be performed in sanctified locations, so there is no way to have a Catholic ceremony on the beach. Think about what you need. Will you need a havan-kund for the pheras? Do you require a kosher meal? Are you planning a South Asian wedding? A Buddhist wedding ceremony? Be clear on what your requirements are.
3. See if the venue has vendor tie-ups.
If your venue has vendor tie-ups in place, it will just make your job that much easier. You won't have to waste time hunting for them.
So now, let's get to the exciting part. Which country should you choose for your destination wedding?
1. USA
America is one of the best locations for a destination wedding. There are very few countries that can boast of such diverse terrain.
Hawaii always tops the list. And with good reason. Black sand beaches, mountain peaks, private beaches and stunning sunsets all make gorgeous backgrounds for wedding photos.
Next in line are Napa Valley, California, Los Angeles, Las Vegas and New York.
2. Canada
Alpine ranges, mystical forest landscapes, bright autumn trees, and magical snowy winters, Canada is a truly surreal country with the most breathtaking views you could imagine. So take a trip up to the land of the maple leaf and ice hockey and experience an unforgettable destination wedding in the north.
3. Europe
Not much could be more romantic than a destination wedding in Europe, a continent full of history, including the location of some of the greatest love stories of all time. Choose from a number of beautiful European wedding venues in Ireland, Scotland and Italy, just to name a few. Whether you dream of being married in a Tuscan villa, romantic cathedral or a medieval castle, Europe has plenty of venues and wedding packages for any couple's budget. Your European destination wedding ceremony and attire can be as simple or lavish as you wish. Spend your time in Europe taking in the breathtaking views and landscape, visiting amazing historical sights and enjoying starry nights in the countryside.
4. Australia
Australia has an amazing choice of world class wedding destinations. From seaside wedding resorts where 100+ guests can stay the weekend to romantic elopement destinations that sleep just the two of you, Australia boasts some of the world's most picturesque wedding venues for getaway style celebrations.
When you think of a larger-than-life, luxurious destination, you automatically think of Dubai. In fact, if there's one place that sparks instant romance (after Paris), it's Dubai - a city where balmy afternoons turn into extravagant sundowners and majestic skyscrapers turn into heartwarming homes. There is absolutely nothing stopping you from having your dream wedding in Dubai - from world-class fireworks to having a celebration mid-air in Ain Dubai and then hosting a reception on a Yacht - you can have it all here.