How to plan the perfect International Destination wedding
A wedding is a major endeavour, but organising an overseas destination wedding may be much more difficult. There are several aspects to consider, ranging from the difficulties of transporting everyone to the legality of marrying in another nation. However, if you're prepared to put in the effort, arranging an overseas destination wedding may be a gratifying experience.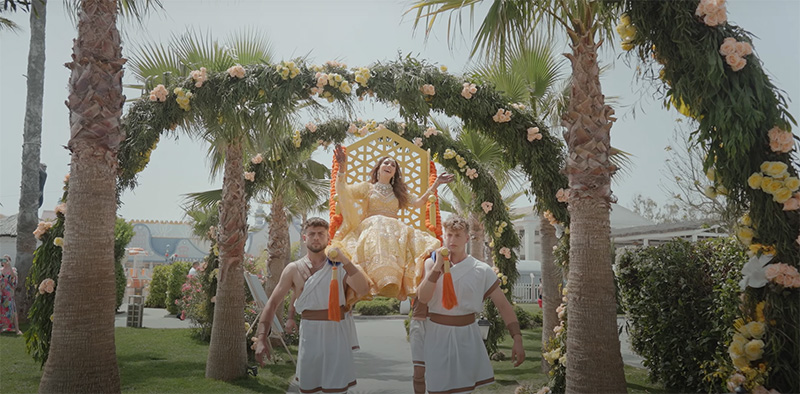 Here are a few tips to help you plan the perfect international destination wedding:
Choosing your destination:
There are several considerations to consider while selecting a wedding venue, including:
The calendar year: Some places are more popular at particular times of year, so pick a period that works for you and your guests.
The cost: Because destination weddings may be costly, it's critical to select a location that matches your budget.
The vendor's availability: Make sure there are enough providers, including as caterers, photographers, and flowers, to suit your demands.
The legal requirements: Because each country has its unique marriage laws, it is essential to investigate the requirements for the place you pick.
Here are some popular international destination wedding destinations:
Hawaii: Hawaii is a popular destination for destination weddings because it offers stunning scenery, beautiful beaches, and a variety of activities for guests to enjoy.
Mexico: Mexico is another popular destination for destination weddings because it offers a variety of climates and landscapes, from the beaches of Cancun to the colonial city of San Miguel de Allende.
Italy: Italy is a popular destination for destination weddings because it offers a rich history and culture, as well as stunning scenery and delicious food.
France: France is a popular destination for destination weddings because it offers a romantic atmosphere, as well as stunning scenery and delicious food.
Greece: Greece is a popular destination for destination weddings because it offers a rich history and culture, as well as stunning scenery and delicious food.
Dubai: Dubai, a city where sunny days morph into lavish sundowners and beautiful skyscrapers change into cosy homes, is the location that ignites passion like nowhere else.
Turkey: Turkey has been receiving a lot of attention lately as a location for destination weddings, which are growing in popularity. With its breathtaking vistas, extensive history, and welcoming people, it should come as no surprise.
Bahrain: Because of its rich cultural history and tradition, which has been nearly fully maintained, Bahrain has become a favourite choice for wedding locations. From thedistinctive architecture of its century-old homes to the mosques and monuments overflowing with tradition and religious importance, this can be seen everywhere.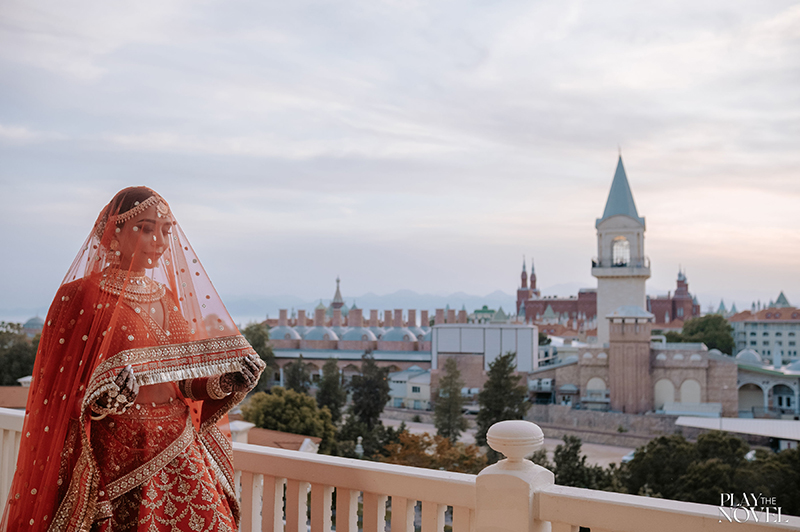 Start planning early:
It takes a lot of time and work to prepare an overseas destination wedding, so get started early. This will provide you plenty of time to investigate suppliers, schedule flights and hotels, and complete all essential documentation.
Hire a wedding planner:
Hiring a wedding coordinator might be really beneficial if you are feeling overwhelmed. A skilled wedding planner will have expertise organising foreign destination weddings and will be able to assist you with everything from choosing the ideal location to dealing with the practicalities of getting everyone there.
Be flexible:
Things don't always go as planned, especially when it comes to organising an international destination wedding. It is critical to be adaptive and flexible, as well as to be prepared for everything.
Enjoy the process:
Organising a foreign destination wedding can be time-consuming, but it can also be quite gratifying. Enjoy every stage of the process of preparing your perfect wedding.
Here are some additional tips for planning an international destination wedding:
Do your homework. Take some time before you begin preparing to investigate several places and choose one that meets your goals and budget. Read reviews, examine images, and speak with other couples who have had destination weddings.
Request estimates from many providers. Once you've decided on a location, start gathering quotations from vendors. Don't be afraid to bargain, and make sure everything is in writing.
Schedule your flights and lodgings ahead of time. The earlier you book, the more likely you are to obtain a decent bargain.
Purchase travel insurance. Travel insurance can assist you in the event of a flight cancellation, luggage loss, or medical emergency.
Discover the local customs. Take some time before you travel to learn about the local customs and traditions. This can help you prevent mistakes and ensure that your guests have a wonderful time.
Prepare yourself for the unexpected. Because things don't always go as planned, it's critical to be prepared for the unexpected. Pack for all weather conditions and have a backup plan in case of flight cancellations or other unanticipated circumstances.
You may organise the ideal foreign vacation wedding with proper planning and preparation. Just remember to unwind, enjoy the journey, and share your delight with your closest friends and family.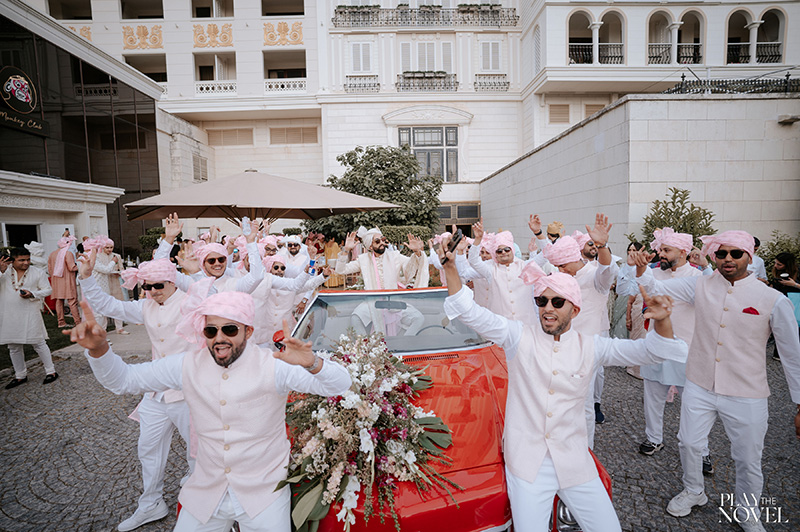 DreamzKrraft hosted a special destination wedding for the couple - Kajal & Rishi in Antalya, Turkey. They chose the Titanic Mardan Palace as the venue for their wedding. DreamzKrraft organised the whole wedding from planning, to designing the decor. The themes varied for various ceremonies such as Haldi, Bollywood Night (Sangeet), Baraat & Wedding, After Party, Pool Party and Gala Dinner.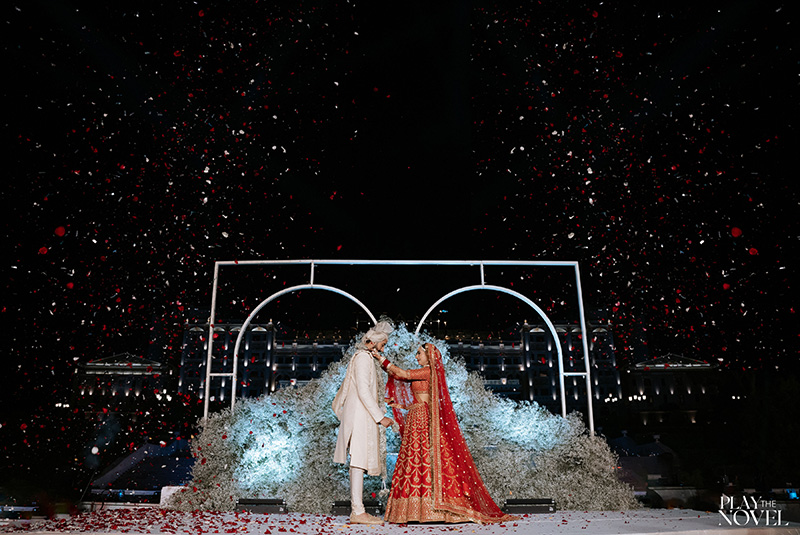 The bride was very particular about how she wanted the wedding to be and since she was 20 years old, she maintained a list of all the major as well as minor aspects of her wedding. With DreamzKrraft team working day and night to make sure that she receives the wedding of her dreams, Kajal was indeed shocked with every decor and arrangement done for her wedding.
The wedding was indeed a huge memorable event in the lives of the couple and also in the lives of those who attended it as it went viral on social media with posts and reels reaching 9-10 Million views. With the grand firework spectacle to Sukhbir Singh performing for the Gala Dinner, Kajal and Rishi's wedding was one of the most memorable weddings planned by DreamzKrraft.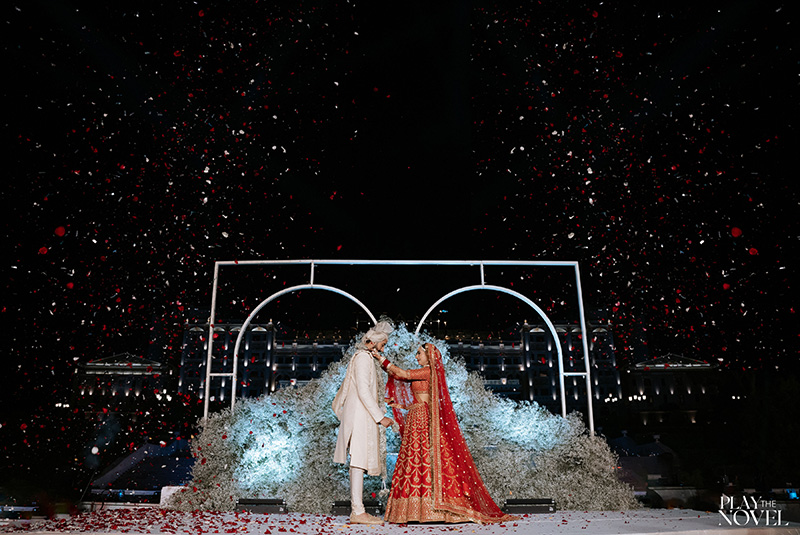 Because of their expertise in faultless event management and their ability to handle all logistical obstacles, Dreamzkrraft is the ideal choice for your overseas destination wedding. They guarantee that your dream wedding becomes a reality by utilising a strong worldwide network,attention to detail, and a love for producing unique events. Contact the DreamzKrraft team today!