Dubai – one of the most promising wedding destinations in the world
Dubai is famous for its grandeur and richness, with world-class services and a distinct combination of historical Arabian culture and modern magnificence. It's no wonder that Dubai has grown into one of the foremost popular wedding locations in the world. Dubai has some of the most breath-taking wedding locations in the world, thanks to its exquisite architecture, opulent hotels, and scenic beaches.
The UAE-based city has some of the most spectacular venues for marriage ceremonies and festivities, including The Ritz Carlton Palm, Jumeirah, and The Address Dubai Mall - Downtown. From these venues, guests may enjoy views of prominent landmarks such as the Burj Khalifa, as well as other marvellous experiences such as an interior fall or waterfront patio area.
Steps to Plan the perfect wedding in Dubai
Planning the ideal wedding is an ultimate goal come true for many couples. The city of gold has a diverse choice of locations and alternatives, making it simple to organise an outstanding wedding experience. Here are a few ideas to make your wedding day unforgettable:
Hire a wedding planner: A professional planner will help you organize all the details of your big day so that everything goes smoothly on the day itself and leaves no room for stress or worry. They can also advise you on different aspects such as choosing themes, vendors and venues based on their knowledge of what works best where in Dubai.
Speaking of wedding planners, DreamzKrraft is one of the top listed wedding planners in Dubai, known for its creativity, attention to detail, and impeccable execution, with their expertise you can rest assured that your wedding will be a truly unforgettable experience for you and your guests.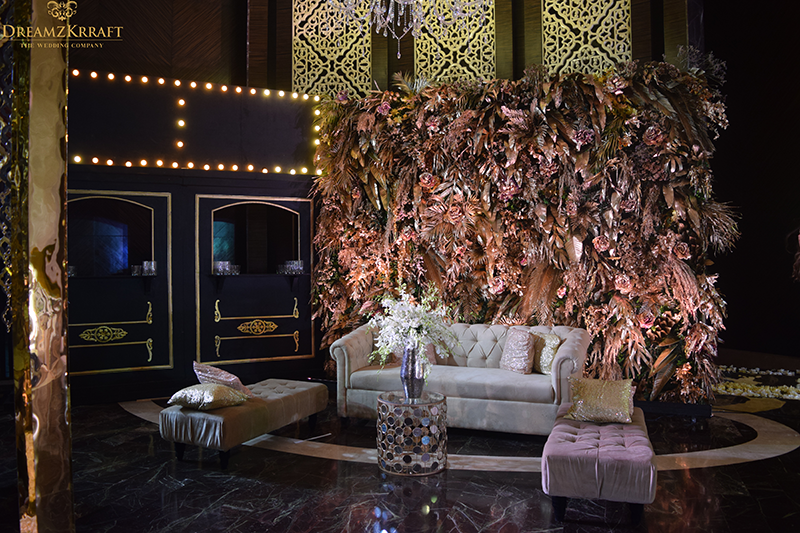 Accessibility
Choose between indoor vs outdoor venues: Depending on whether or not weather conditions permit outdoor celebrations during winter months (November-February), there are several options available depending on what kind of ambience you want at your party. From beachside weddings held under open skies with cool breezes coming off sea waves swaying palm trees nearby; through ballrooms decorated with white roses & candles flickering softly against walls while classical music plays softly in the background; all way up until grand ballrooms set up like palaces complete with chandeliers hanging overhead creating magical lighting effects and the list goes on.
Dubai's Delightful Cuisine
Dubai is a cosmopolitan city with an incredible array of food options. Arabic cuisine is the most popular in Dubai, with seafood being one of its highlights. If you're looking for something more international, there are plenty of restaurants serving halal-friendly dishes from around the world and even some that offer vegan and vegetarian options.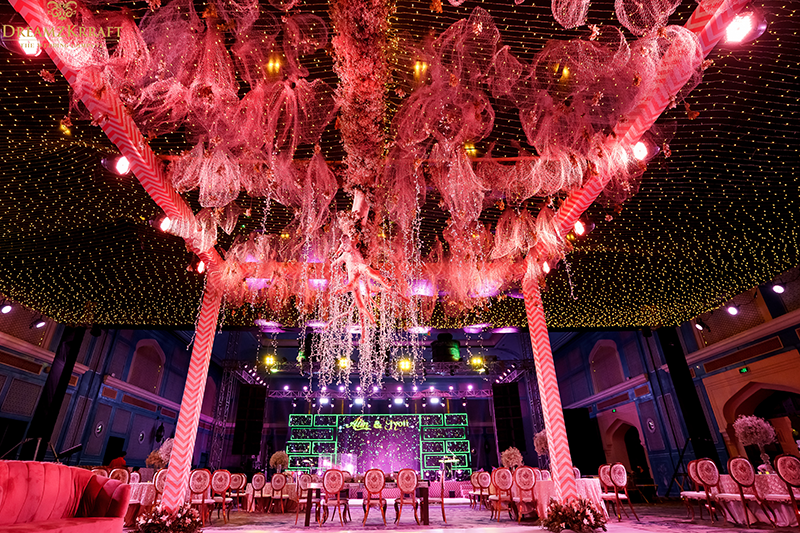 Significant Wedding Venues in Dubai
Al Maha Desert Resort: Set amongst the sand dunes, this unique resort offers a surreal experience for your wedding. As part of the Dubai Desert Conservation Reserve, it also offers privacy and intimacy for your special day.
Atlantis The Palm: A man-made island surrounded by the sea; this venue offers a paradise-like atmosphere for your wedding. There are also plenty of other sights and activities to enjoy.
Dubai Polo & Equestrian Club: For a poise and elegant wedding, this club offers stunning views of the green polo fields. The authentic country vibe and charming stables set the mood for a rustic country ceremony.
One&Only Royal Mirage Resort: With a beachfront, ballrooms, halls, and small courtyards, this resort has a venue for any size of wedding. The ornate vines, plants, and trees make for a beautiful setting for your big day.
JW Marriott Marquis Hotel: This venue offers the taste of urban Dubai and the exciting energy of the city. With a pool deck and terrace overlooking the Burj Khalifa, it's a great choice for an urban wedding.
Jumeirah Beach Hotel: With a view of the brilliant Arabian Gulf, the Jumeirah Beach Hotel is perfect for all those looking to have a beach wedding in Dubai. Just a few steps away from the city's most luxurious hotel, Burj Al Arab, it is the beauty of the gulf that draws couples here to celebrate their special moments. Floral gardens make a pretty picture for a quiet, private ceremony. If you want to opt for something a little fancier, they also have a ballroom perfect for such an occasion!
Fairmont - The Palm: One of the best outdoor wedding venues in Dubai, Fairmont - The Palm offers a spectacular setting. With the impressive Dubai skyline creating an elegant urban backdrop, the starry skies and the reflections in the gulf are only some of the most impressive features of this destination. Perfect for a small group of 150, the Sea View Garden is as though inspired by a fairy tale. The Palm Courtyard and the Palm Ballroom are also some other great options here. When searching for small wedding venues in Dubai, do consider this one.
The Address Montgomerie Dubai: Rich with nature's beauty, The Address Montgomerie Dubai has it all. Lush lawns, fragrant gardens, serene lakes, and huge golf fields make this one of the best and largest outdoor venues. Along with the perfect natural setting, the hotel offers brilliant services, ensuring the comfort and happiness of all its guests. In addition to the lawn, it also has an open-air pool deck, and a terrace to host any evening parties.
Emirates Palace: As the name signifies, this is the venue where your wedding will be nothing less than a royal event. Here, the special moments with your significant other are taken to another level of luxury. With its majestic architecture, pristine beach, and opulent interiors, Emirates Palace is a destination that makes a statement. This is where you go if you want to go all out for your wedding and leave no stone unturned to make it a grand affair.
The St. Regis Dubai: The St. Regis Dubai is the epitome of sophistication and elegance. With a choice of indoor and outdoor venues, this luxurious hotel offers stunning views of the Dubai skyline and the sea. Whether it's a grand ballroom or an intimate terrace, the hotel provides a romantic and charming setting to exchange vows. Their professional wedding planners will help make your big day everything you've ever imagined.
Palazzo Versace Dubai: The Palazzo Versace Dubai is a stunning location that combines luxury, style, and elegance in one place. Inspired by the fashion house of Versace, the hotel has a unique style and flair that is sure to impress your guests. With a choice of indoor and outdoor venues, you can choose the perfect setting for your wedding. Whether it's a grand ballroom or a stunning terrace overlooking Dubai Creek, Palazzo Versace Dubai is the perfect venue for a glamorous wedding.
Waldorf Astoria Dubai Palm Jumeirah: The Waldorf Astoria Dubai Palm Jumeirah is a luxurious hotel that offers stunning views of the Arabian Gulf and Dubai skyline. With its beautiful gardens and beachfront location, this hotel is the perfect choice for a romantic and intimate wedding. Their professional wedding planners will work with you to create the perfect wedding package, whether it's a small ceremony or a grand affair.
The Ritz-Carlton, Dubai International Financial Centre: Located in the heart of Dubai's financial district, The Ritz-Carlton, Dubai International Financial Centre is a sophisticated and luxurious hotel that offers stunning views of the city skyline.
Shopping in Dubai
Shopping is a very crucial part of any wedding and Dubai serves justice to this overwhelming activity. Whether you're looking for traditional souks or modern malls, designer boutiques and department stores are all available. For those who want to shop like royalty, there's the Dubai Mall which is the world's largest shopping centre with an indoor ski slope and aquarium. For those who want something more local to add a special touch to their special day, try the Gold Souk where you can find jewellery made by local artisans as well as gold coins from around the world at discounted prices.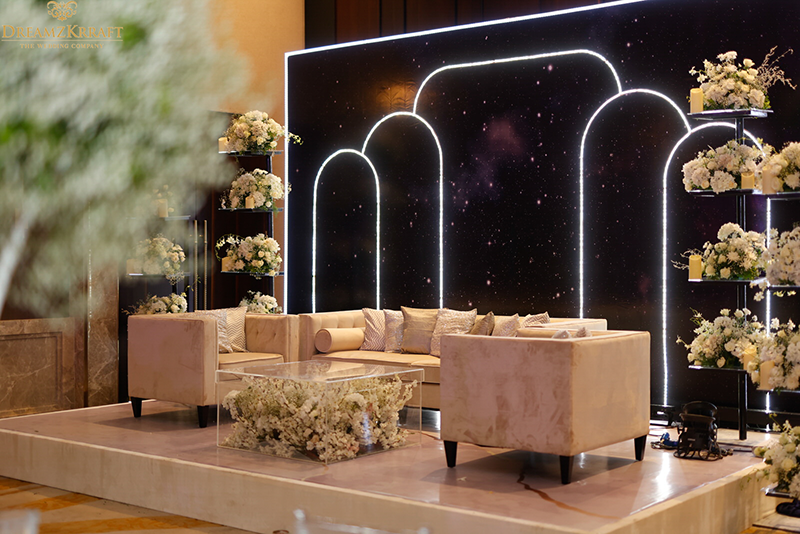 Entertainment in Dubai
Planning a destination wedding or even a local wedding always includes guests from various parts of the world and guests usually plan on getting a good tourist experience before and after the wedding. Not only does Dubai offer some of the most stunning venues in the world, but it also has an abundance of entertainment options for your guests.
Dubai has many theme parks and water parks including Wild Wadi Water Park, Yas Island Dubai, Ferrari World Abu Dhabi (the largest indoor amusement park) and Atlantis The Palm Aquarium & Resort Dubai. It also boasts some of the best sporting events such as The Dubai Desert Classic Golf Tournament at Emirates Golf Club or Formula 1 races at Yas Marina Circuit which are sure to keep everyone entertained throughout their stay in Dubai.
If you're looking to host your bachelor or bachelorette party, you might be keen for something livelier such as nightclubs like Hakkasan Nightclub or Marquee Nightclub & Dayclub which will make any partygoer feel right at home.
Accommodations in Dubai
Finding accommodations for guests who travel from far and near to be a part of your special day can be a difficult task. Fortunately, Dubai is a melting pot of cultures, so it's no surprise that there are plenty of hotels to choose from. If you're looking for something traditional, check out some of the luxury hotels on offer in Dubai. The following is a small list of hotels to get you started:
1. Fairmont Dubai
2. The Address Montgomerie
3. Ritz-Carlton DIFC
For those who want something more exotic and unique (but still luxurious), we recommend staying at one of the beach resorts along Jumeirah Beach or in Palm Jumeirah. One of the best options is the Atlantis The Palm - Considered one of the best places to stay in Dubai by many travellers because it has everything from water parks and aquariums to restaurants serving world-class cuisine with views over both land and sea. This resort also offers an excellent selection of rooms including villas which can accommodate up to 10 people each.
Getting to and Around Dubai
Often, travelling becomes a major laidback in any wedding as guests find it tough to make their way through the city trying to find the location of the ceremony. Dubai is a city that's easy to get around, and there are plenty of options for getting to and from your wedding venue.
The Dubai International Airport is one of the busiest airports in the world, so it's no surprise that it has multiple terminals. Transportation options include taxis (which can be expensive), buses (a good option if there are several people at your party), or rental cars through companies like Avis or Hertz; we recommend renting an SUV if possible because parking can be tricky in some areas of town.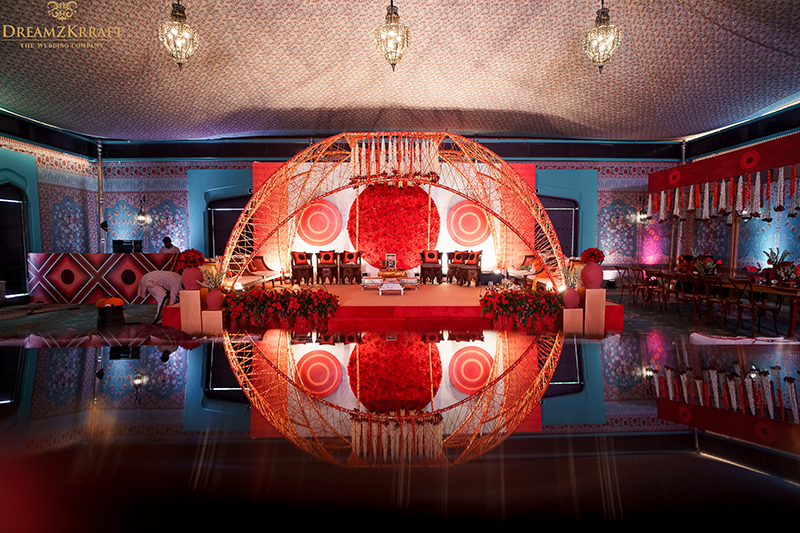 Romantic Activities in Dubai
Weddings are the most romantic moment not only in the lives of the couple but also for the guests who participate in this joyous celebration. As the sun sets over Dubai, you can enjoy a romantic dinner on a private dhow cruise or a hot air balloon ride. If you're looking for something more adventurous, you can try an overnight desert safari in Wadi Rum with your loved one.
In conclusion, Dubai is the perfect fit for the jigsaw puzzle of finding a venue for your destination wedding. Whether you prefer a beachfront ceremony or a stunning ballroom reception, there is no shortage of options to make your special day unforgettable.