It's the beginning of a new year, and the beginning of exciting new trends in marriages.
While the last two years were quite a roller coaster, couples are making up for it now by making sure their special day has a whole new look and feel.
Punchy hues, immersive experiences and larger-than-life experiences - 2023 is all set to bring forth a host of exciting new trends in Indian weddings.
And for those of you planning your wedding this year, here is the lowdown on the hottest wedding trends to help you execute the perfect celebration with your family members.
1. The Big, Fat, Indian Wedding
Post- covid, Indian weddings are getting bigger and fancier. Families are increasingly going for big, fat, Indian weddings with large setups, grand decor, themed events and plenty of entertainment.
With the minimalistic trend on the out, everything needs to have an impact. So bold designs, where the decor makes a statement, statement pieces, massive setups and themed events are becoming the norm in Indian weddings. We are also seeing many larger-than-life floral installations and lots of mirrors, all designed to a massive scale.
The trend of royal Indian weddings goes hand-in-hand with this. A wedding ceremony amidst a grand, palace-like setup, gorgeous floral arrangements, the bride and groom's grand entry, a feast fit for a king and memories that will last a lifetime.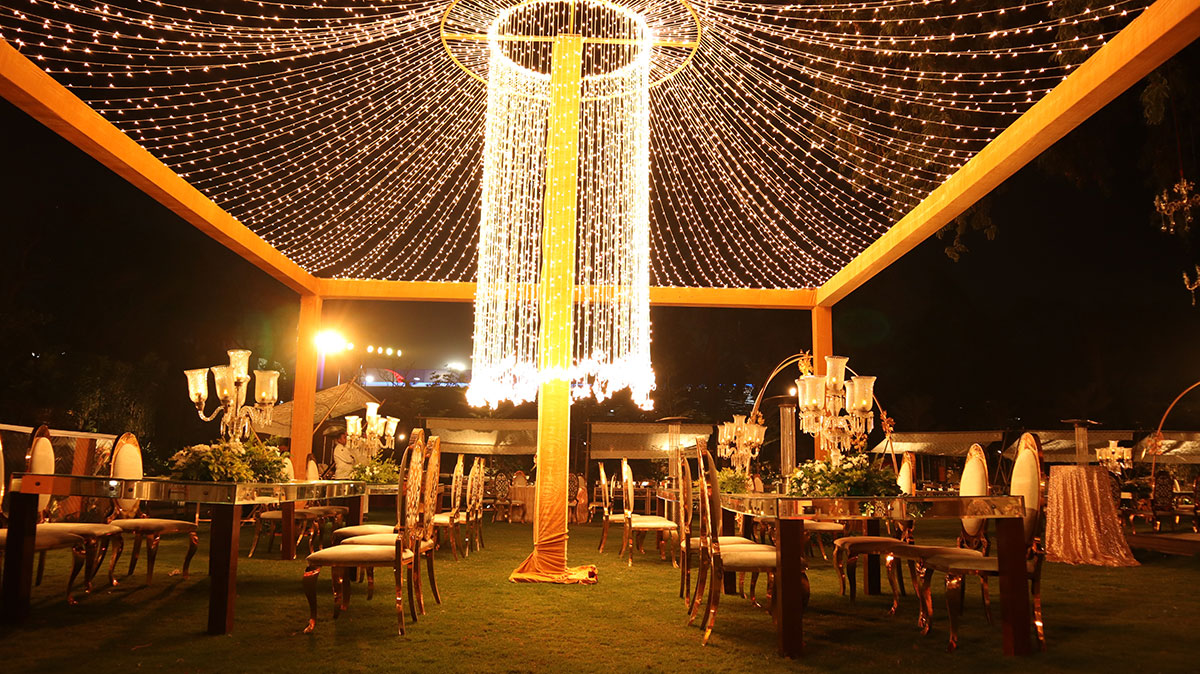 2. Fusion of Modern and Traditional Indian Wedding
While the Big, Fat, Indian Weddings are in, couples don't want to go completely traditional. They are looking for a mixture of Indian traditions and modern elements to make the wedding more in tune with their sensibilities.
This is actually extremely interesting because we are seeing a complete revival of traditional craft techniques with elements of storytelling. Brides are also opting to reuse saris and lehengas that have been in the family for decades, either as they are or by customising them according to modern trends.
The art of mix-matching is another way this fusion seeps into bridal fashion. Brides today are looking for versatile options that are comfortable to wear and carry, and can also be used a decade later without feeling dated. Some great examples of this is a pant-sari with a Banarasi weave or a lehenga-sari with a Kanjeevaram weave.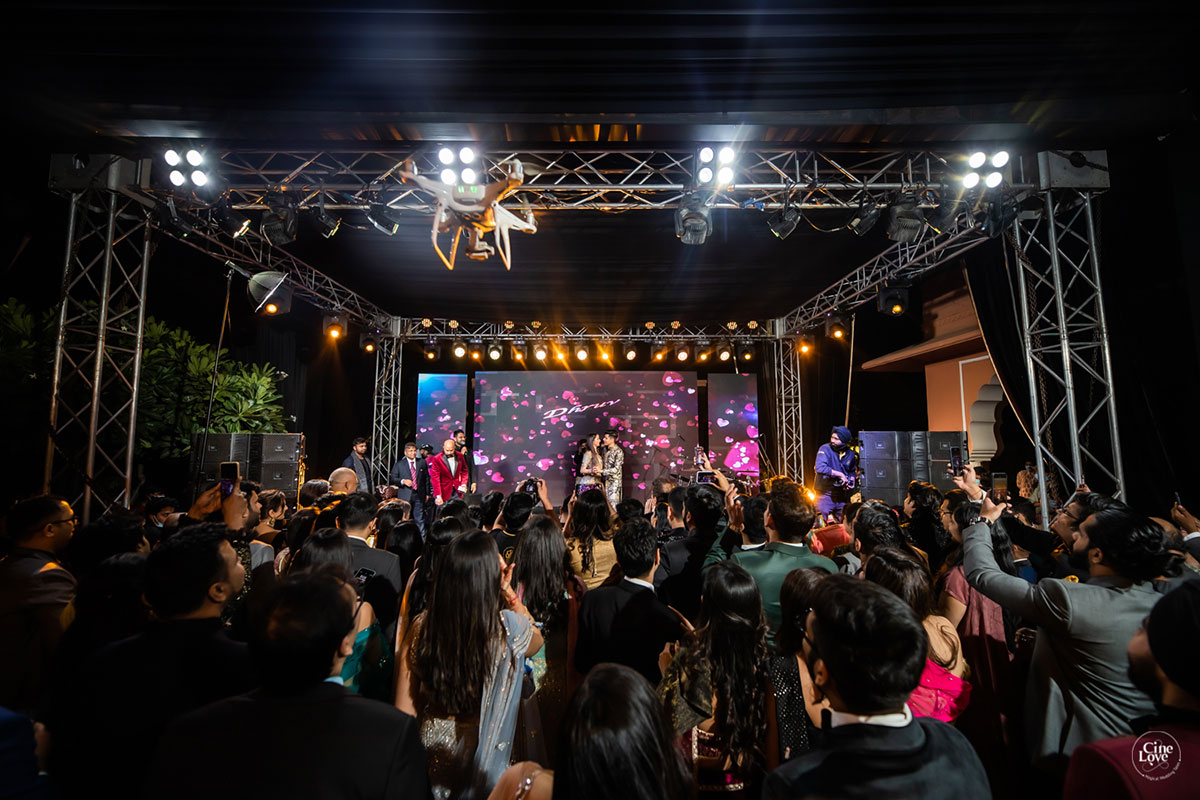 3. Heritage Weddings
The statuesque beauty and grandeur of a bygone era can be very seductive. And Indians living abroad have definitely been seduced by India's rich heritage. That's why they are increasingly more interested in heritage properties and the old-fashioned look and feel of hotels that remind people of a time gone by. This also ties in with the concept of a Big, Indian Wedding.
Wedding designers are also coming up with ways of combining the romance of heritage without the outfit looking too dated. Silhouettes built on a lacy foundation of chikankari, kasab lace, and nakshi embroidery, are an excellent example.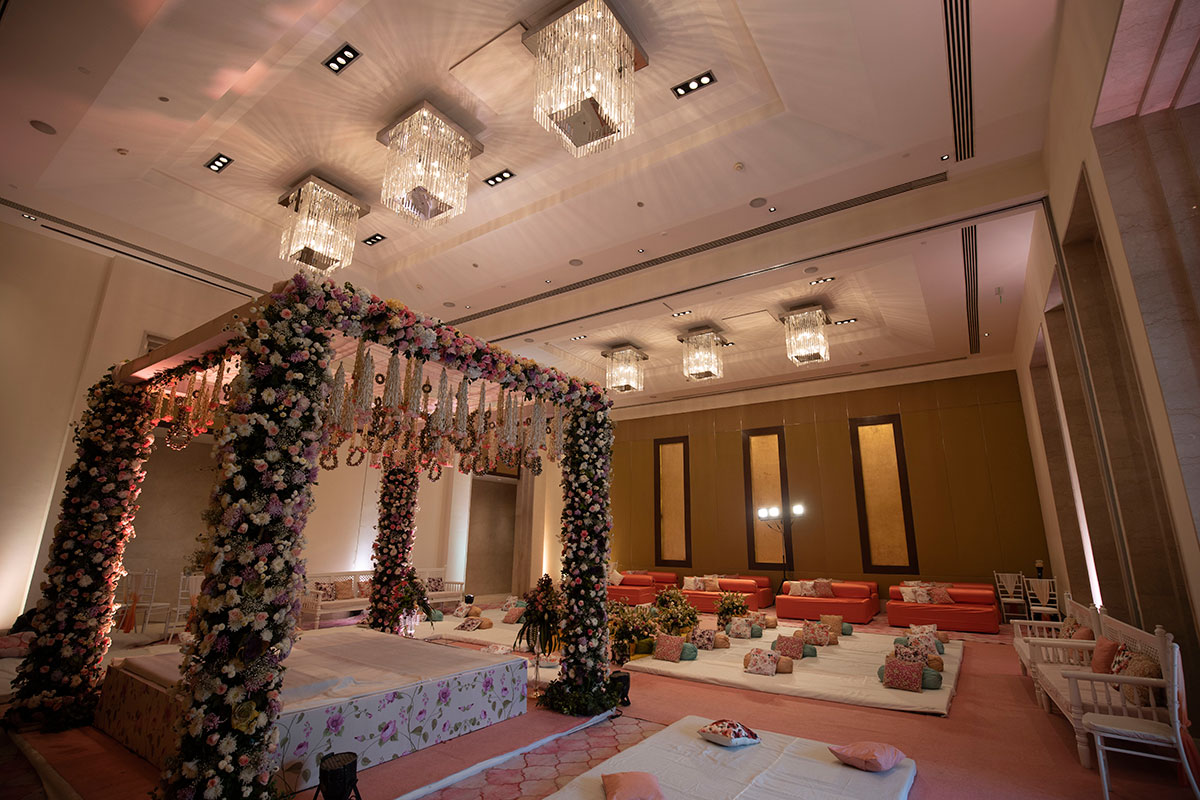 4. Destination Weddings
While not a new concept, destination weddings have picked up in popularity post covid. Couples are looking at different venues and countries that promise a unique experience, the more luxurious the better.
A grand tour of Europe, a scenic jaunt through California's wine country, a spectacular wedding ceremony in the middle of gorgeous Dubai, or an exploration of the Peruvian countryside - destination weddings are perfect for those who love to explore new destinations and want their wedding to be different from the rest.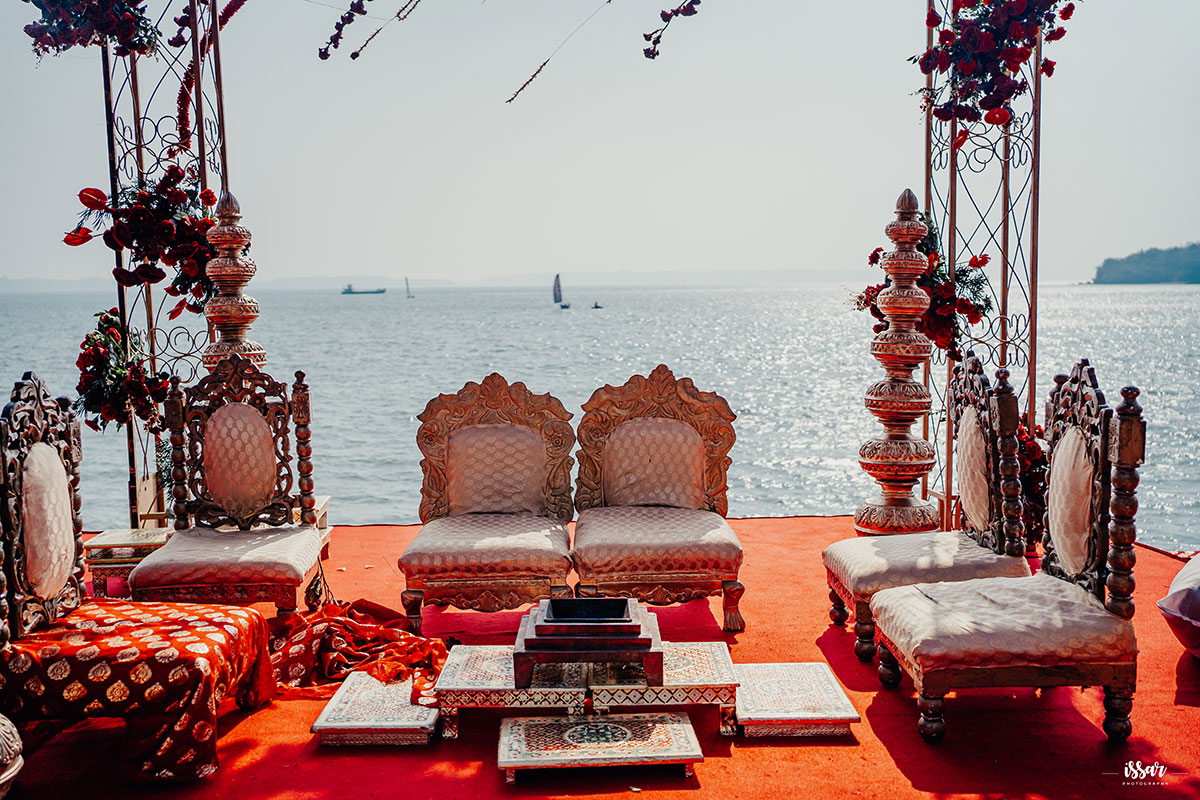 5. Statement decor in Indian Weddings
With huge weddings come huge responsibilities; namely decor that will do it justice, but at the same time, won't overwhelm the main event or take attention away from it. So when it comes to wedding decorations, statement pieces are the best way to go. Some great examples are:
Floral Arrangements:
Romantic, versatile and perfect for any theme, florals are the perfect statement pieces. But if you don't want your wedding decor to look like something that has been done a million times before, make sure you design something that will actually become a talking point at the wedding. This can be a main centrepiece, a floral wall, a main wedding arch or a floral photo wall.
Floral Backdrop:
A floral statement piece can serve as a beautiful backdrop for your photo-ops. It can also serve as a way to transform the wedding area, making it look more intimate and romantic.
Hanging Statement Pieces:
When planning the decor, the ceiling tends to become an afterthought, but is actually one of the most important aspects of the entire decor. Utilising the ceiling adds textures and layers to your wedding decorations, but at the same time, you don't want to make it complicated. So use hanging statement pieces that take advantage of every angle. You can use lighting interspersed with floral arrangements to make it more spectacular. Elevating a gorgeous chandelier with drapery or organic decorations will give the event an extra edge.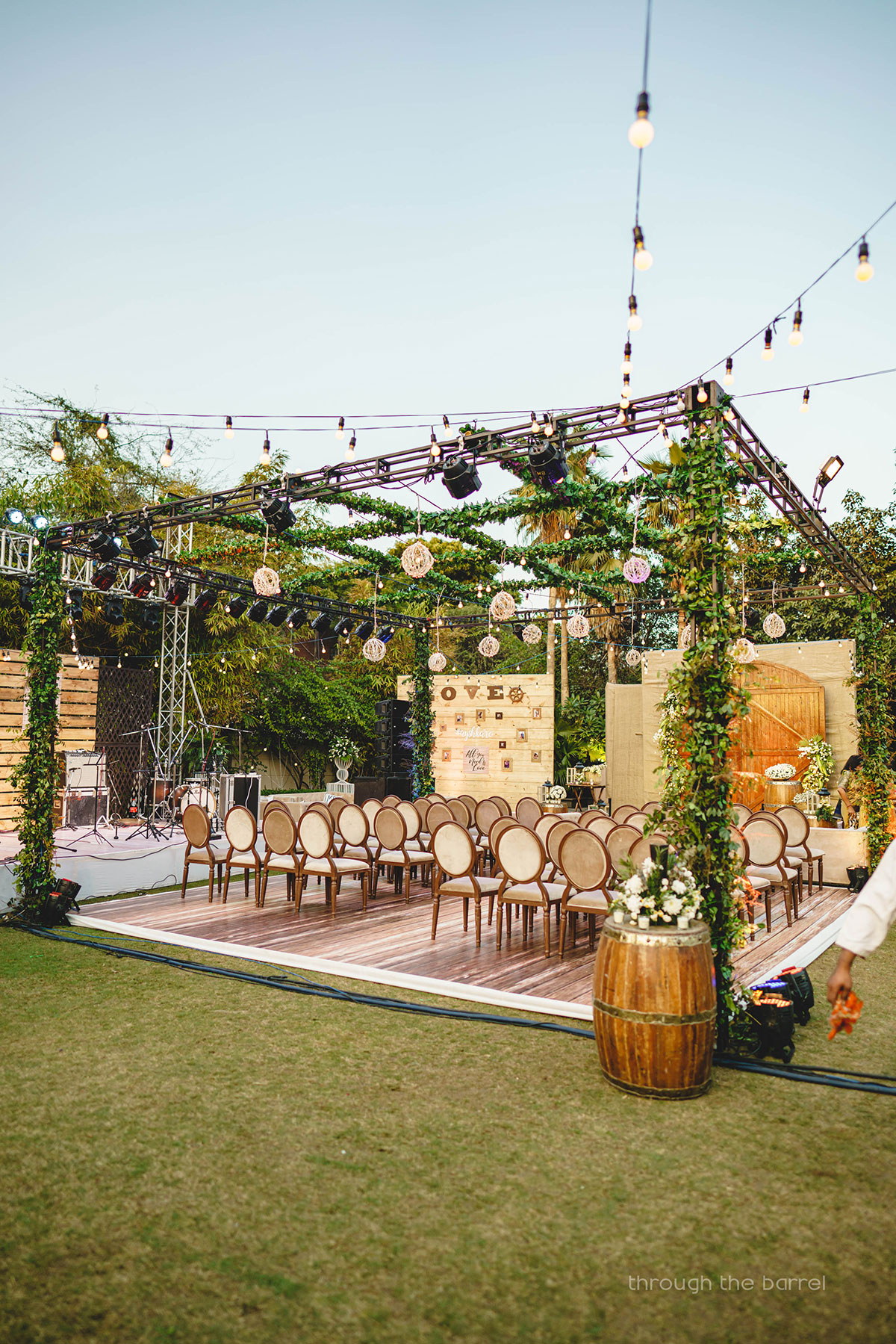 6. The eco-friendly touch
While sustainability or eco-friendly elements are becoming de rigeur for 2023, there isn't much scope for them in larger - than - life weddings. But, having said that, a touch of nature can be extremely romantic. So if the occasion calls for a natural element and you are looking to inject some romance in your celebrations, turn to nature for some inspiration. For instance, you can let illustrations of budding blossoms, lush leaves and chirping birds adorn your invites. In fact, florals are very much in. Couples are now focusing on floral and tropical-themed invites, with some pastels thrown in for good measure.
On the other hand, if you are looking at sustainability all the way, you can look at a ceremony right in the lap of nature. The stage can be set amidst verdant greenery and beautiful blossoms, with simple decorations, such as earthen lamps, candles, oil lanterns, and reflectors & glass reflectors to illuminate the area.
7. Beach Weddings
Aah! The beauty and romance of a simple beach wedding. And if you are planning the ceremony on the sandy, white beaches of the Maldives or the Caribbean, then even a simple ceremony promises wonderful memories.
And the beauty of a ceremony like this is that it can be as simple or as grand as you want it to be. Heart set on minimalism? Then a summery, floral look, with a quaint stage and a seating area is all that you need. And the more elements you add, the grander the ceremony becomes.
8. Statement outfits & jewellery in Indian Weddings
If bigger is better is the mantra for this wedding season, then why should the wedding outfits be left behind? Whether saris or lehengas, statement pieces are in, this year.
For instance, brides are opting for lehengas with long, beautifully-adorned veils and saris with intricate embroidery, teamed with classic silhouettes and ageless embroideries that never go out of style.
Repurposing older outfits is another part of this trend. So if you are planning on honouring your mother or grandmother by wearing the lehenga or sari she got married in, you can choose to wear it as is or change it around to make it your own.
Talking about jewellery, heavy jewellery, heirloom pieces, layered necklaces and stacked bangles are in this wedding season. Every bride wants her jewellery to make a statement this wedding season, and so should you.
And if you are ready to experiment a little, then floating diamonds, mixed-and-matched gemstones and non-traditional colours (such as turquoise) will give you a unique, regal allure.
9. Food in Indian Wedding
When everything is grand and larger-than-life, why should food get left behind?
2023 is going to be the year for experimental menus and cuisines at weddings. This runs the gamut from curated menus to exotic cuisines to molecular gastronomy.
When you think of international cuisine, what comes to mind? Pasta, ravioli, jerk chicken? Well, Indian weddings seem to have gone a step further. We can see artisanal cheeses like Burrata from Puglia, and even Truffle and Mushroom bars and black radish have become prominent at Indian weddings.
Luxurious menus, curated specially by celebrity chefs and professionally styled, are the next thing in line when you want your food to become an experience.
Think of this. You opt for the best cuisines from across the globe but what if you aren't happy with the way they're presented? So couples are now hiring a food stylist to work with the caterer and designer and translate the entire experience into a visual delight that is consistent with the theme of the wedding function. From the servers to the platters, the cutlery and the buffet table, the stylist's job is to align the wedding menu with the theme of the wedding to make it an unforgettable experience.
Now comes molecular gastronomy. So if science tickles your senses and gives you a rush, then molecular gastronomy would definitely appeal to you. Cocktail ice spheres, transparent ravioli, oak moss vapor, crab ice-cream are some of the exciting examples that are making their way into Indian weddings.
In the Indian context, tamarind water, served as a sphere, along with puri is a very clever version of pani puri.
10. Pre-wedding ceremonies
Roka, mehendi, sangeet, bachelor parties, hen nights, these are all pre-wedding ceremonies that need just as much attention and planning as the main wedding ceremony. These ceremonies also change depending on which state in India you hail from.
In northern India, the engagement is called the Mangni, in southern India, it's the Nischitartham. Similarly, the Haldi ceremony in North India is also known as Manjha for Muslim weddings, Supra nu Murat for Parsi weddings and Roce for Christian weddings.
But while the ceremonies may differ, the desire to tweak them according to modern trends remains the same. So if your are also looking for a way to make your pre-wedding ceremonies unique, the engagement ceremony is a good place to start. Some examples would be themed mangnis, with themes ranging from game night to carnivals to anime.