Reasons why Thailand is perfect for an Indian destination wedding
Planning a dream wedding requires choosing a perfect location that blends romance, beauty, and cultural diversity. Thailand appears as an excellent alternative for many Indian couples seeking an unforgettable wedding experience. Thailand, known for its colourful culture, magnificent scenery, and friendly people, provides an amazing combination of traditional charm and modern luxury. Let's explore why Thailand is the ideal wedding location for Indian couples wishing to make lasting memories.
Thailand boasts of exotic and picturesque locations for a picture-perfect destination wedding
From beautiful beaches and lush tropical gardens to opulent resorts and castles, the entire country has plenty to suit every couple's preferences. Beach weddings are frequently held in places like Phuket, Krabi, Koh Samui, and Hua Hin, while the historic Grand Palace in Bangkok provides a royal and culturally rich setting for a traditional Indian wedding.
Koh Samui
The second-largest island in Thailand, Ko Samui, is located in the Gulf of Thailand, off the coast of the Kra Isthmus. It is renowned for its palm-lined beaches, coconut groves, and steep, deep jungle, as well as for its upscale resorts and spas.
Phuket
Thailand's Phuket Province is headquartered at Phuket City on Phuket Island. Thalang Road in the Old Town is surrounded by vibrant Sino-Portuguese structures and 19th-century shophouses, making it one of the most popular wedding settings in Thailand.
Bangkok
Thailand's capital, Bangkok, is a sizable city distinguished by elaborate shrines and a bustling street scene and is a famous wedding location. Flowing past the Rattanakosin royal area, home to the sumptuous Grand Palace and its revered Wat Phra Kaew Temple, the boat-filled Chao Phraya River feeds its network of canals.
Chiang Mai
Chiang Mai, which is in the northern highlands, may offer a background of mountains for a wedding that is equally beautiful as one on the beach. A quiet wedding day and marriage may be started by being married amidst the serene hills and rice paddies, while resorts like the Four Seasons can offer a dash of elegance and refinement. Chiang Mai is a popular city, so there will still be much to see and do after the wedding, despite the less traditional wedding experience.
Koh Phi Phi
Why settle for anything less than your ideal day when Koh Phi Phi is one of the most stunning Thai islands in the entire world? Here, you may take in beautiful floral garlands and displays, floral arches on the beach, and of course, those spectacular bay and sea vistas. You can even take part in western-style wedding ceremonies in a really Thai environment. After that is over, the happy couple and their guests may take advantage of everything Phi Phi has to offer, including its several beautiful beaches, exciting nightlife, and, of course, Maya Bay.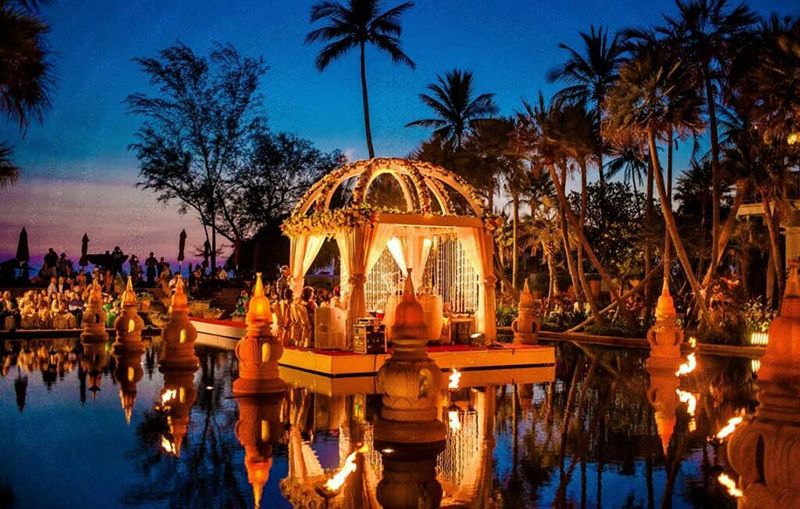 Thailand offers affordable Luxury for Bulk Weddings
Thailand provides an excellent balance of affordability and luxury, making it an attractive choice for Indian couples planning their wedding. With a range of accommodation options available, from budget-friendly resorts to world-class hotels, couples can find the perfect venue that fits their budget for hosting a bulk wedding.
Here is a list of top hotels, resorts and spas to choose from:
FOUR SEASONS RESORT KOH SAMUI
The commanding and beautiful views of the Gulf of Siam and the prime beachside position should not be turned down. The Four Seasons Resort is a magnificent wedding location because of its roomy private villas, lavish dining rooms, and peaceful patios, all of which are enhanced by an affluent atmosphere. Working closely with couples, the hotel's seasoned, qualified wedding specialist ensures that every aspect of the wedding arrangements is addressed and taken care of.
ANANTARA BOPHUT RESORT & SPA
The Anantara Resort and Spa provides a charming wedding site on the serene sands of Bophut Beach. The bride and groom are the main focus, while the guests may enjoy the opulent spa services and relaxing therapies on this idyllic island. Couples at Anantara have a choice between exchanging vows on the beach or in the magnificent tropical gardens. The exquisite banquet area for the wedding reception is just a short stroll away for the happy couple and their guests following the ceremony.
CAPE PANWA HOTEL
The Cape Panwa Hotel is distinguished by its chic, contemporary, and opulent style and is located in a peaceful and isolated area of Phuket. Its large dining area, which views out into the lovely Andaman Sea, can comfortably accommodate large wedding groups with up to 200 people.
SANDALWOOD LUXURY VILLAS
This upscale boutique hotel's traditional Thai architecture makes it an unmistakably beautiful setting for a wedding. On Koh Samui's headland, the private homes are tucked away in beautifully maintained gardens. In order to ensure that couples have their ideal dream wedding, Sandalwood employs professional and highly experienced wedding planners who work with couples from the time of making reservations and bookings until the actual wedding ceremony.
Ease of Travel and Accessibility
Travel logistics became reasonably easy with several international flights linking major Indian cities to Bangkok and other Thai towns. Furthermore, Indian nationals can acquire a visa on arrival or use Thailand's e-visa service, greatly streamlining the procedure. This serves as cherry on the cake as your wedding guests can travel and enjoy their time in Thailand post-wedding as well.
Rich Cultural Experience
Thailand as well as India both have deeply rooted cultural traditions that unite to provide a perfect combination for an Indian wedding in Thailand. Thai hospitality is well-known across the world, and couples are bound to receive warm and welcome gestures during their stay. Traditional Thai components, like the traditional Thai water-pouring ritual or the releasing of lanterns for good luck, can be included in couples' ceremonies. Thai customs and rituals, along with Indian wedding traditions, offer a one-of-a-kind and distinctive touch to the festivities.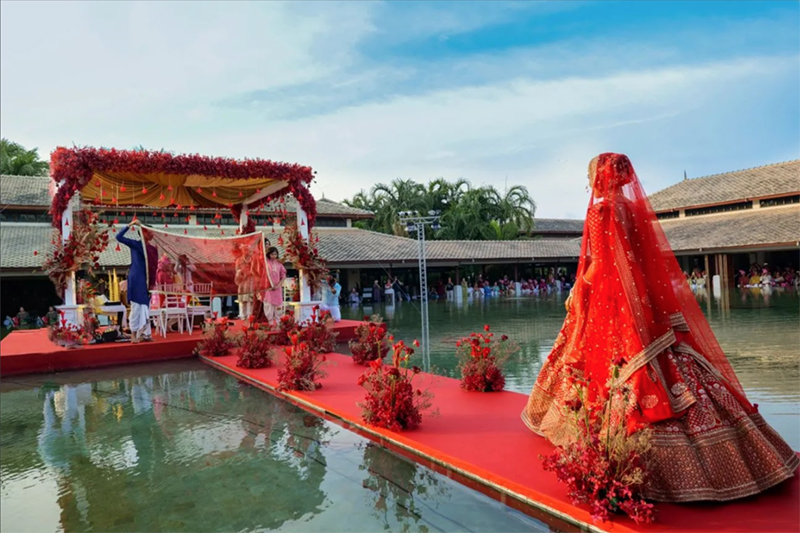 Leisure and Excursion Opportunities in Thailand
Thailand has a variety of leisure and excursion options, allowing couples and their guests to have amazing experiences. The country offers an array of activities to complement the Indian wedding festivities, from touring bustling local markets and enjoying Thai spa treatments to island hopping, snorkelling, or even an elephant trek.
Thailand's rich cultural tapestry, stunning natural beauty, cost-effectiveness, and beneficial hospitality make it an ideal wedding destination for Indian couples looking for an unforgettable experience. The perfect combination of Indian and Thai customs, as well as the ease of travel, add to a memorable celebration. Thailand offers to realise the fantasies of any Indian couple looking for an exceptional wedding venue, whether it's a seaside celebration or a huge ceremony at a magnificent castle.
Are you still nervous about planning the ideal wedding? DreamzKrraft will take care of it! The professionals at DreamzKrraft come from all facets of the wedding business. Instead of going through the hassle of organising the ideal wedding of your dreams, let DreamzKrraft handle everything - from planning to execution!