Tradition Meets Luxury: Celebrating a Traditional Wedding in Jaipur
A traditional Indian wedding is a grand celebration that blends ancient customs, vibrant rituals, and rich cultural heritage. When it comes to hosting a wedding that beautifully combines tradition and luxury, Jaipur, the Pink City of India, stands out as an exceptional destination. With its magnificent palaces, regal ambiance, and warm hospitality, Jaipur offers a perfect backdrop for couples seeking an unforgettable wedding experience.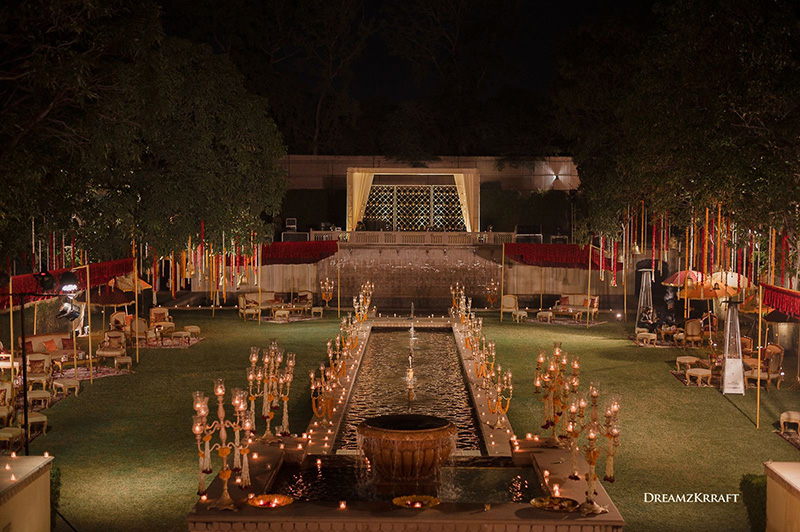 The Essence of Tradition in an Indian Wedding:
The cultural richness of Jaipur lies in its deep-rooted traditions. From pre-wedding ceremonies like the engagement (sagai) and mehndi (henna application) to the main wedding ceremony (vivah) and post-wedding rituals, Jaipur showcases the essence of Indian customs.
Magnificent Wedding Venues:
Jaipur boasts an impressive array of majestic wedding venues that exude a sense of grandeur and royalty. From the iconic Amber Palace and City Palace to opulent heritage hotels like Taj Rambagh Palace and Jai Mahal Palace, these venues offer a blend of luxury, history, and architectural marvels.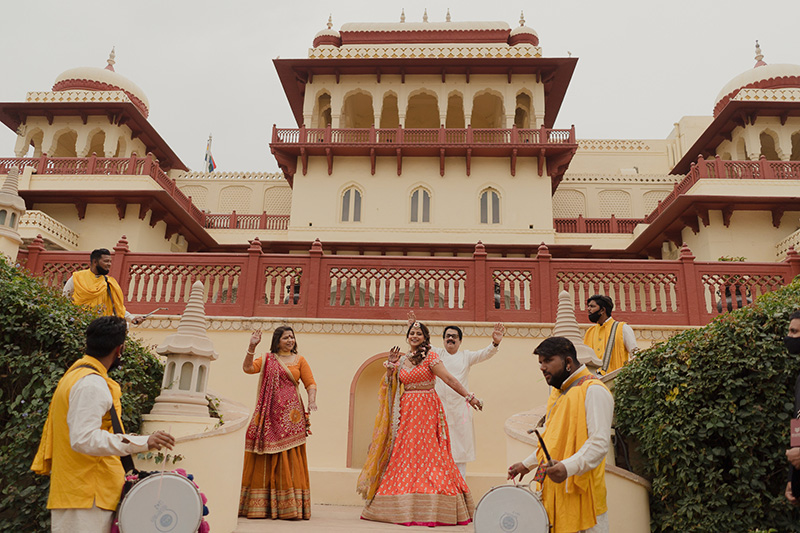 Royal Cuisine:
Jaipur's culinary delights are a testament to the city's rich heritage. The traditional Rajasthani cuisine, with its unique flavours and royal influences, adds an unforgettable touch to wedding celebrations. From traditional Rajasthani dishes like dal baati churma and laal maas to delectable sweets like ghewar and mawa kachori, savour the royal feast that awaits guests at a Jaipur wedding.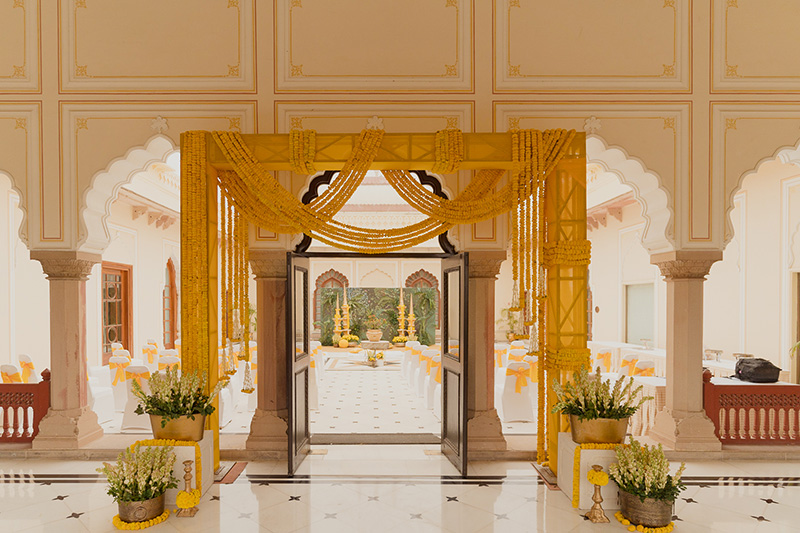 Attire and Jewellery:
The attire and jewellery worn by the couple and their families in a traditional Jaipur wedding reflect the regal traditions of Rajasthan. Intricately embroidered lehengas, vibrant turbans, stunning jewellery adorned with precious stones, and the graceful drape of the saree evoke a sense of royalty.
Entertainment and Celebrations:
A traditional Jaipur wedding is a celebration filled with music, dance, and cultural performances. From soulful folk music and Rajasthani dance forms like Kalbelia and Ghoomar to mesmerising puppet shows and live performances by local artists, the entertainment at a Jaipur wedding leaves guests enchanted and immersed in the vibrant cultural heritage of the region.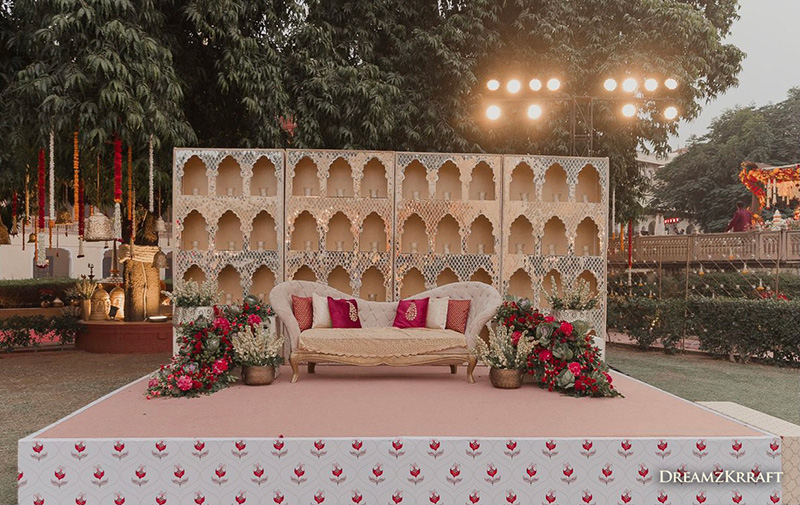 A traditional wedding in Jaipur is a harmonious union of customs, luxury, and cultural splendour. The city's regal palaces, exquisite venues, and warm hospitality create an enchanting backdrop for couples seeking to celebrate their love in a traditional yet luxurious manner. From the rituals and customs to the opulent décor, delectable cuisine, and captivating entertainment, every aspect of a Jaipur wedding reflects the rich cultural heritage of Rajasthan. DreamzKrraft, the wedding planning company is all set to chaperone you through the thrilling ride of hosting your special day in your way!