Delhi - The Ideal Wedding Destination for Tradition and Extravagance
Do you want a wedding that combines tradition, grandeur, and modernity? Look no further than Delhi, India's stunning capital city. Delhi is a fantastic location for couples looking for an exceptional wedding experience, thanks to its rich history, beautiful venues, and dynamic culture. Let's take a walk through Delhi's enticing appeal and help you arrange a genuinely unforgettable party in this beautiful city.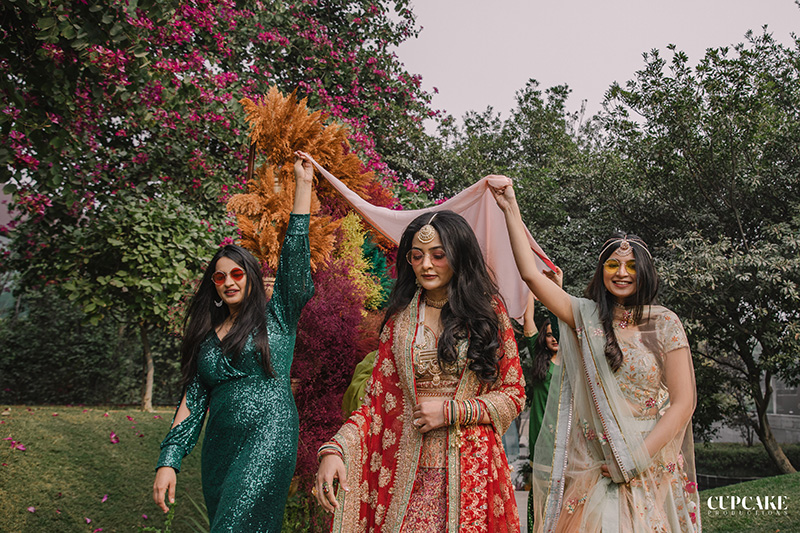 Cultural Splendor
The cultural legacy of Delhi is a treasure trove that's ready to be discovered. Its magnificent forts, old temples, and heritage locations provide a wonderful setting for a traditional wedding. Whether you want to exchange vows in the stately halls of a palace or in the tranquillity of a centuries-old temple, Delhi is the ideal location for your fairy tale wedding.
Here's a list of tourist attractions that can keep your guests busy while you prepare for your big day:
Red Fort
The Red Fort, the most well-known landmark in Delhi, serves as both a potent reminder of Mughal-era India and a representation of India's battle for independence. Every evening, a one-hour sound and light performance detailing the fort's history is presented to transport your mind to the prehistoric past.
Swaminarayan Akshardham
This enormous temple complex, which is a relatively recent attraction, was constructed by the spiritual group BAPS Swaminarayan Sanstha and inaugurated in 2005. The complex contains a large garden, statues, and a boat trip in addition to the stunning architecture of the pink stone and white marble shrine.
Humayun's Tomb
If you notice similarities between Humayun's Tomb and the Taj Mahal in Agra, it is because Humayun's Tomb served as the model for the Taj Mahal's construction.The mausoleum is a portion of a larger complex that is situated within lovely gardens.
Indulge in Opulence:
Delhi delights you with a plethora of beautiful wedding venues that cater to your every need. From opulent hotel ballrooms to tiny antique havelis and extensive gardens, the city has something for everyone. The Taj Palace, The Leela Palace, Neemrana Fort, and The Roseate ooze elegance and create a beautiful setting for your wedding.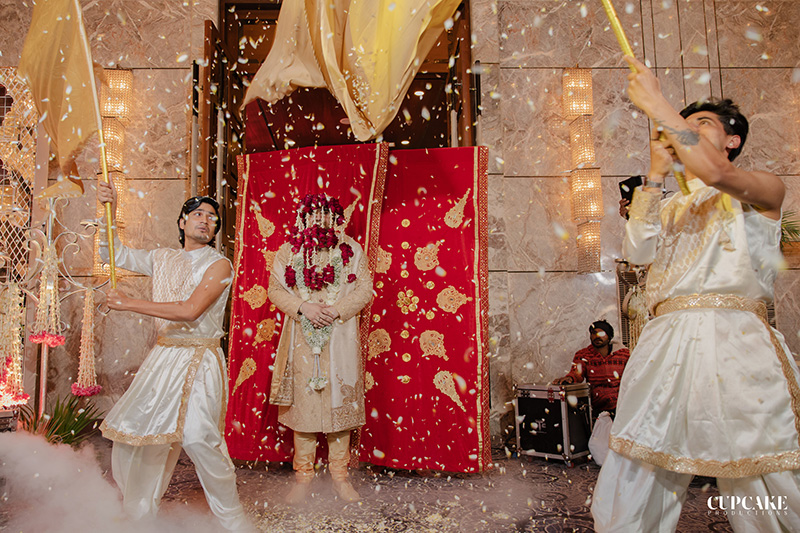 If you are a soon-to-be bride or groom, then chances are that you're running around in circles trying to find the venue of your dreams. So, let's explore the top locations in Delhi to host your special day.
The Woods
In search of a location with a rustic-yet-glam theme? You always go to The Woods. This lovely facility, which can be found in Gurgaon's Greenwood City, Sector 46, has an old-fashioned country charm. It's ideal for an intimate wedding thanks to its acres of landscaped green, calm poolside area, and swaying trees that provide a gorgeous setting.
JüSTa Atrio
This hidden treasure is located on the boundary between Delhi and Gurgaon. JüSTa Atrio is ideal for timeless, exquisite weddings because to its wonderful outdoor pool, breathtaking banquets, lush green grass, and lovely lotus patterns flowing throughout the hotel. You could easily have your enormous wedding here with room for up to 650 guests.
Vivanta By Taj, Surajkund
Want to escape the buzz of the city but not too far? This is the place. The courtyard has a faultless, aesthetic appeal with its carefully crafted water fountains and breathtaking poolside vistas.
Four Points By Sheraton
If "elegance" is your catchphrase, this wedding location is the epitome of it. It is the ideal location for your guests' cosy, exquisite wedding celebrations. Beautiful hotel grounds include a sizable swimming area that at night is decorated with floating candles.
ITC Grand Bharat
At ITC Grand Bharat (around an hour's drive from Gurgaon), you may have a grandiose wedding with old-world elegance right in your neighbourhood. It's the ideal location for a destination wedding-style setting, with stunning architecture and a lovely poolside seating area with cabanas.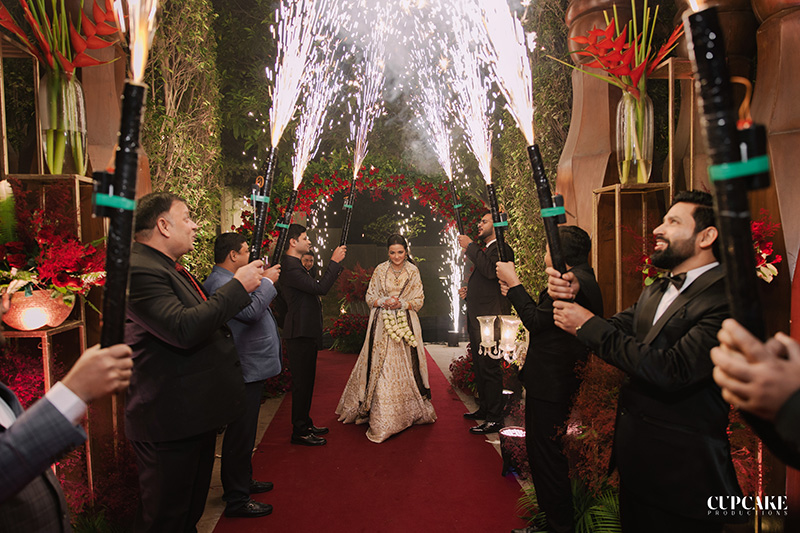 Delight Your Taste Buds:
Prepare for an exquisite dining experience in Delhi, a city known for its mouthwatering food. The city's eclectic cuisine will tantalise your taste buds with everything from exquisite street food to lavish dinners. Treat your guests to a feast of traditional Mughlai cuisine, savoury street chaats, and delectable sweets to ensure they enjoy every second of your wedding reception. Here are some specialities of Delhi to relish while your stay:
Chole Bhature
Paranthas
Chaat
Kebabs and Rolls
Kulfi
Biryani
Shop till You Drop:
Delhi's busy marketplaces and fashionable stores entice shoppers from all over the world. Discover wedding treasures by immersing yourself in the city's bustling retail environment. From stunning bridal gowns and jewellery to one-of-a-kind wedding favours and accessories, Delhi has a wide variety of alternatives to bring a touch of elegance and flair to your big day.
You can shop your wedding look at the following locations in Delhi:
Chandni Chowk
Lajpat Nagar
Rajouri Garden
South Extension
Chawri Bazar Road
Kamla Nagar Market
Sarojini Nagar Market
Connaught Place
Jwala Heri Main Market
Keep the Celebration Going:
When the sun goes down, Delhi's thriving entertainment scene comes alive. Explore the city's numerous clubs, bars, and live music venues, and keep the party going late into the night. Dance the night away, enjoy live music performances, and make lasting memories with your loved ones. Delhi makes certain that your wedding festivities continue long after the formalities are complete.
Easy Access for Everyone:
Because of its superb connections, Delhi is a handy location for your guests. Travelling to Delhi is simple, thanks to two major airports and a well-connected railway network. Your loved ones may come without difficulty from domestic or foreign areas, allowing them to join you in enjoying your big day without worry.
With its combination of history, grandeur, and modernity, Delhi is an ideal wedding location. Its lovely aura is created by its rich cultural heritage, magnificent locations, excellent cuisine, and active environment. Choosing Delhi means embarking on an incredible adventure full of love, joy, and priceless memories. So come, let Delhi work its charm, and begin on an unforgettable wedding experience in this lovely city.
DreamzKrraft has hosted one of the best Delhi weddings for the couple - Tarana & Santosh. The highlight of their wedding was the reception theme. Drawing inspiration from the regal ambiance of Versailles, we meticulously designed every aspect, from ornate table settings to the luxurious draperies. With red and gold as the decor muse, we wove a tapestry of opulence and sophistication, transforming the venue into a legal sanctuary.
Contact the DreamzKrraft team and let us assist you in planning your special day to perfection. Everything is handled by us, from planning to execution. All you have to do is tell us about your ideal wedding, and DreamzKrraft will craft it flawlessly.