For couples searching for a unique and romantic location to exchange vows, Bali is a popular choice. Bali is the ideal location if you want an experience you won't forget. Bali provides a distinctive fusion of luxury and adventure that makes it the ideal location for a wedding thanks to its gorgeous beaches, lush rainforests, and colourful culture.
For couples who wish to tie the knot in grandeur, there are several possibilities, from quiet garden banquets to beachside weddings. Bali will undoubtedly make your big day unforgettable with its opulent resorts and top-notch entertainment options. As one of the top island locations in the world, Bali provides a wide selection of luxury resorts and hotels for destination weddings.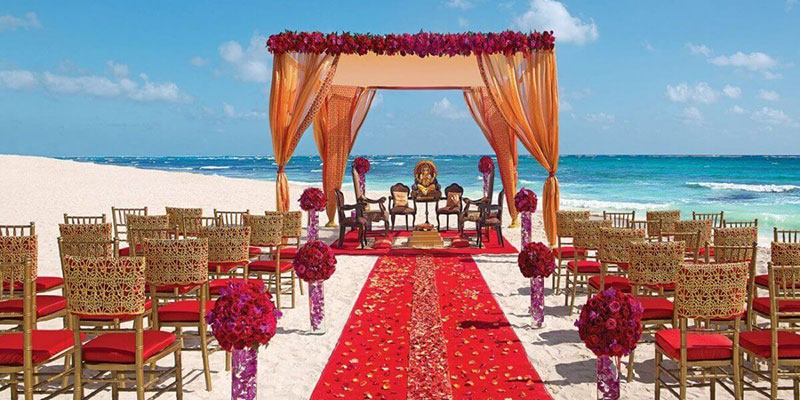 Thailand boasts of exotic and picturesque locations for a picture-perfect destination wedding
Here is a list of various locations that you can choose from to host your special day in Bali:
Ketewel
Ketewel, a little black-sand beach popular with surfers, is surrounded by a number of beachfront resorts and wedding villas that may accommodate destination weddings. Brenchley suggests booking a room at Villa Puri Nirwana because it has direct beach access and gorgeous weddings for up to 120 guests.
Seminyak
Couples seeking a vibrant yet opulent beach getaway would like Seminyak. Large beaches, resorts, shopping, dining, and nightlife are all present in the region. Before entering your resort to celebrate the night away, you may conduct a beachside wedding ceremony with views of the Indian Ocean. To experience everything Bali has to offer, from authentic Balinese cuisine to the Puri Saren Palace, think about scheduling a tour while you're there.
Ubud
Wedding preparation in Ubud is fun for couples who wish to immerse themselves in the community. The couple and their guests will have much to do in Ubud over the course of the wedding weekend, from historical sites to art markets. Visit the Goa Gajah (or Elephant Cave) sanctuary for some pre-wedding sightseeing and meditation, or stroll through breathtaking surroundings at the Tegalalang Rice Terrace.
Jimbaran
Ayana Resort and Spa and Banyan Tree Ungasan Resort are just two of the opulent hotels and spas that can be found in Jimbaran. Jimbaran is the ideal location for couples organising large events who are looking for opulent settings and lavish lodging for their special day.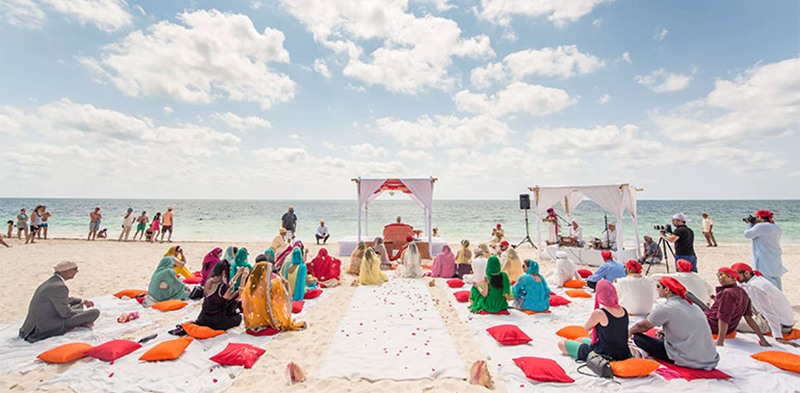 Bali is an Indonesian province that encompasses the island of Bali and a few nearby islands. Bali is renowned for its spiritual culture, beaches, and towering jungles. Bali offers activities for every couple and interest, whether you want to unwind by the sea, walk through the highlands or see ancient temples.
Intimate villas that can accommodate 10 to 20 people make up a large portion of the lodging options in Bali. Those planning a small wedding might reserve a private villa and spend a long weekend with their nearest and dearest. Bali also has a number of beach resorts where you may have a big party and let your guests unwind and feel pampered. In either case, the wedding weekend will provide you and your guests with priceless memories.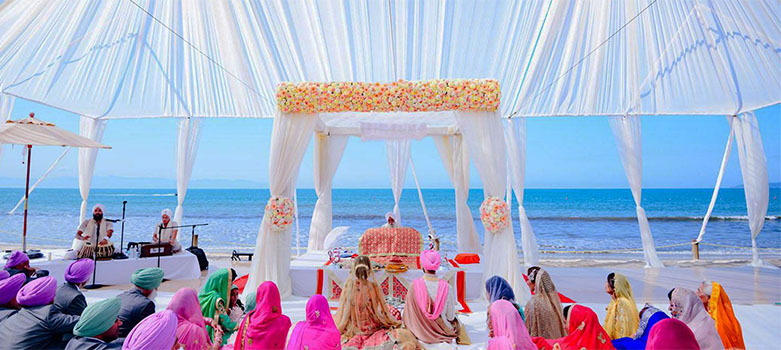 Check out the list below to gain insights about some of the most popular resorts to host your wedding.
Four Seasons Resort Bali at Jimbaran Ba
This stunning Four Seasons beachfront resort has a WeddingMoon package available since it is so prepared for lovers. The venue offers pre-ceremony canapés, a welcome drink, a live-cooking buffet or four-course set dinner, and three pool villas for the wedding night. The delighted pair also get a special supper for two, a 90-minute Balinese massage, and a honeymoon package valid for two nights at the Sayan or Jimbaran Bay resorts.
Alila Villas Uluwatu
This renowned clifftop resort with breathtaking ocean views is perfectly equipped for it, with 84 villas that each have a private pool, if taking over a whole property seems alluring. The main pool may be used as a floating aisle and stage if you purchase the resort, said Kentjono. It is stunning, too. Even without a buyout, she continues, it never seems crowded since the modern Balinese-style resort has a sensation of exclusivity and limits the number of visitors.
Jumeirah Bali
The exquisite Jumeirah Bali, which draws influence from the Majapahit empire of Indonesia and exudes a sense of royalty from the beginning, is without a doubt Bali's newest resort location. The big white and blue resort, which is entirely made up of pool villas and is situated directly on Dreamland Beach, offers regal outdoor locations, stunning photo locations, and a ballroom that can accommodate 200 people for imperial occasions.
Bulgari Resort Bali
In Uluwatu, which hugs the steep cliffside, couples may exchange vows at one of five wedding settings. Every one of them is unique, but the stone Bulgari Chapel with its floor to ceiling windows and sweeping ocean vistas may be the most distinctive. The Water Wedding is another breathtaking alternative, where the couple exchanges vows on an altar that is perched above a translucent carpet that floats on a pond.
Any wedding can be hard to plan, much less a destination wedding. Fortunately, we've gathered some professional advice to guarantee a seamless preparation process for your special day.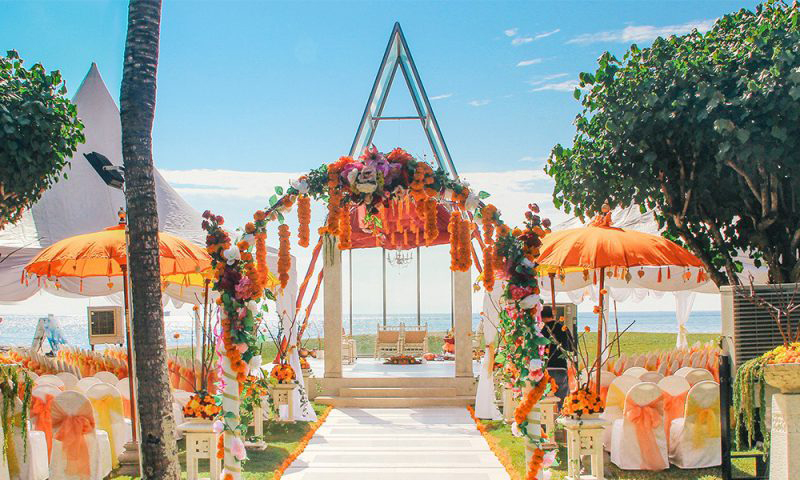 Getting There
Bali is an island, hence flying is the primary mode of transportation. The majority of US direct flights leave from the West Coast, therefore passengers travelling from the East Coast may experience a stopover. Taxis and public buses are available in Bali. The roads in Bali might be hectic, but you can also rent a vehicle, a scooter, or a motorbike.
Bali Weather
Due to its proximity to the equator, Bali has warm, humid weather all year round. The rainy season lasts from November through March, while the spring and summer are dry with a cool wind. Overall, Bali has a charming climate for setting just the right mood for any kind of wedding.
Making Vendor Selections
Bali has every kind of wedding location and style you can think of, including clifftop nuptials, villa weddings, beachfront weddings, and even poolside weddings. But in addition to being challenging, selecting the ideal suppliers to make your big day flawless also takes a lot of time and work.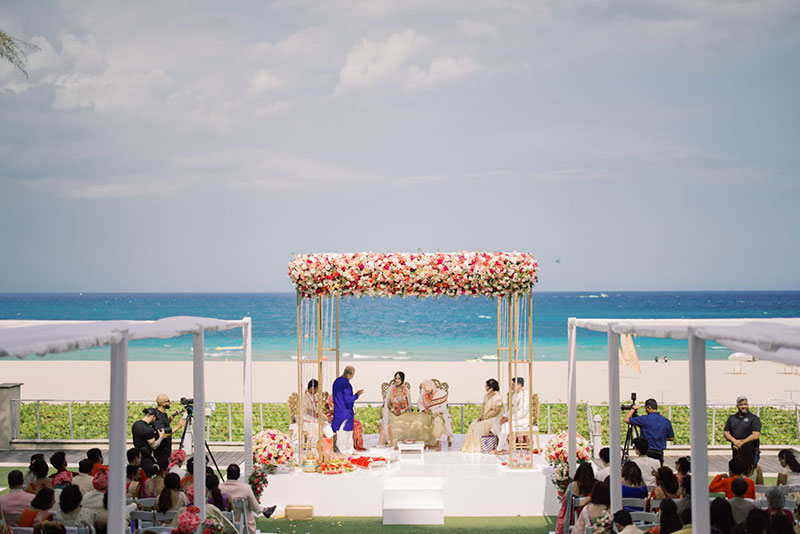 DreamzKrraft is cognizant of the importance of your wedding day and your desire to make it flawless. That's why we're here to relieve you of all your tension and worries so you can fully enjoy the wonder of your special day in Bali. Your aspirations will become a reality thanks to the dedication of our team of specialists. We will sit down with you at the outset, listen carefully to your suggestions, and create a wedding schedule that genuinely reflects your own preferences and style.
We'll methodically take care of every aspect, from scouting out the most breathtaking locations to designing custom themes and decorations that will wow you and your guests. We'll make sure that every detail, from food to photography, entertainment to lodging, is accomplished smoothly thanks to our wide network of reliable providers. We can take care of everything, even the logistics of shipment. So, set aside your concerns and let us to plan a wedding that will far exceed your dreams and leave you with lovely memories of your ideal day in Bali.